On May 12th of this year, Bombay lost a good and great man: Nazir Hoosein. He was a remarkable person who valued modernity and the future. But he was also a gentleman of the old school who cherished tradition, heritage, and friendship. In reading newspaper accounts of his passing a friend thought we had surely lost two Nazir Hooseins. No one person could have possibly contributed so much in so many different areas: international motor sports; formula one racing; automotive mechanics; traffic optimization; film; business; history; architecture; preservation; and Bombay's cultural life. Yet there was only one Nazir Hoosein. He was indeed that all too rare polymath and Renaissance man. Yet he wore all these accomplishments lightly.
And he had a gift for friendship. He and Saleem Ahmadullah, like Nazir Hoosein a historian and champion of all things Bombay, have been dear friends since childhood.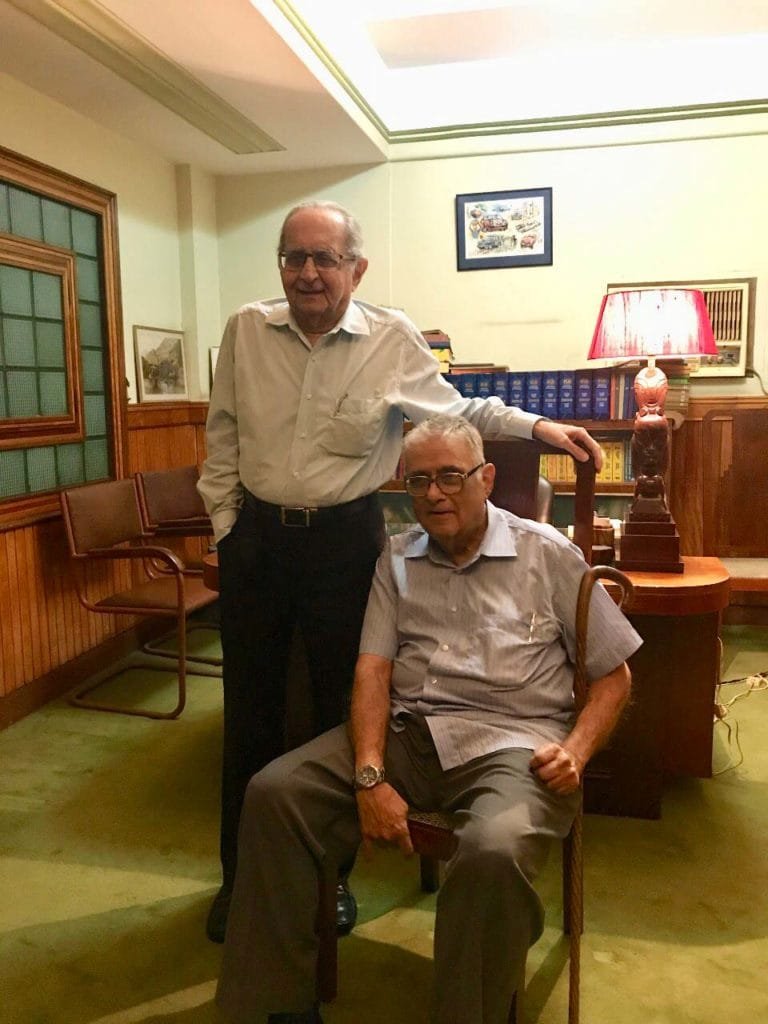 Because of Saleem Ahmadullah I was fortunate to count Nazir Hoosein as a friend for 16 years, which seems far too short now. Whether we were old or new friends, Bombaywallas or foreign wannaabes, he showered his knowledge, kindness, and generosity on us all.
While Nazir Hoosein knew the cost of everything, he understood value above all, most notably his own Liberty Theatre. It is one of the great jewels of Indian Art Deco architecture; and Nazir was the Liberty's curator, archivist, historian, and preservationist. He inherited the cinema from his father Habib who was trained in the cotton trade but whose real passion was film. The elder Hoosein began screening films at the Bandra Gymkhana on Sunday afternoons. During World War II he erected tent cinemas to entertain Indian and Allied troops stationed in Bombay. Eventually he had 45 cinemas including the Garrison and Strand in Colaba and the Naaz on Lamington Road. The Liberty, however, was his "showplace of the nation." When it opened in 1949 it was the only great picture palace in south Bombay to exclusively screen Hindustani pictures. As a souvenir brochure commemorating the Liberty's opening made clear, it was:
a statement to the Indian people that no theatre can be too good for them or for Indian pictures. To the Indian picture-goer who complained that the finest facilities were being used to show foreign products, the Liberty comes as the promise of a brighter future. . . in the shape of an ultra-modern, air-conditioned luxury cinema dedicated to showing the best of Indian films.
The Liberty was designed to be both local and global, modern and traditional. M. A. Riddley Abbott, a Canadian architect, began designing it. When he was killed in a plane crash, only the first story of the building had been completed. Architect J. B. Fernandes completed the building with W. M. Namjoshi, an interior and furniture designer, creating the distinctive décor of the theatre's exterior and interior with the help of Habib Hoosein. Namjoshi went on to design some thirty cinemas across India including the Golcha in Delhi, Raj Mandir in Jaipur, and Maratha Mandir in Bombay.
The Liberty was designed as a multipurpose building. Along with its 1200-seat theatre, it houses shops and offices, the family penthouse, and a preview theatre where Habib Hoosein screened Indian and foreign films for friends like Prince Aly Khan and the actress Gene Tierney. Rising above the marquee, the
tower bears the theatre's name spelled out in neon and a streamlined piano keyboard. It might be likened to a modern shikhara rising here above a temple dedicated to entertainment. While traditional materials like marble from India, teak from Burma, and white cedar from Canada were extensively used at the Liberty, state-of-the-art sound system from Germany and air conditioning from upstate New York were also installed. Incandescent bulbs inside the main and preview theatres created, and still do, a stunning multicolored light show before films are even screened. The theatre is a very early example of performative architecture, made possible by an inventive yet simple use of electric light.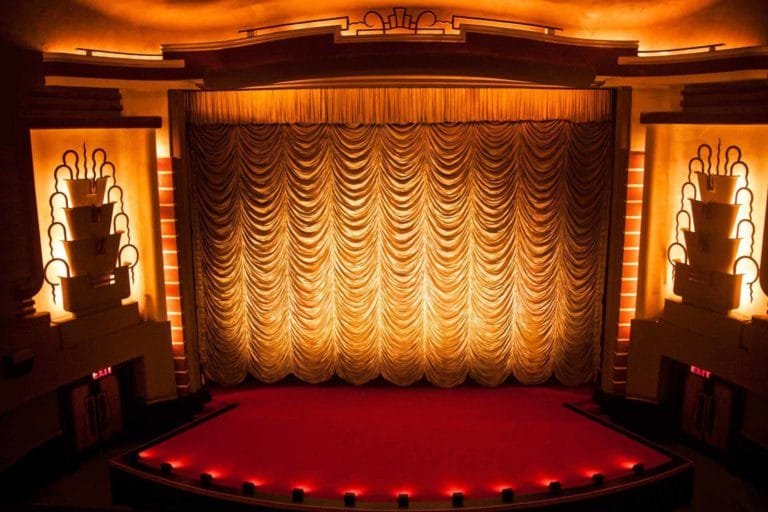 The Liberty hosted premieres for the golden age of Indian cinema with Mehboob Khan's Andaz inaugurating the theatre in 1949. Khan's Mother India ran for the entire year of 1957 at the Liberty; and Nazir Hoosein saw the romance of its stars Nargis and Sunil Dutt unfold at one of the many dinners his father Habib hosted on the penthouse terrace.
The Liberty was always a welcoming space for ordinary Indians too. Habib Hoosein insisted the first screening of Andaz be for the workers who had built the Liberty and their families. There were no ministers or officials present. Instead Nazir Hoosein and the daughter of Motichand, the builder, cut a ribbon strung across the theatre curtain. Documentary footage of the crowds at the Liberty opening for Mother India was later used in the Dev Anand film Kala Bazar to depict the fierce demand for cinema tickets. Bombay Hospital, the Liberty's neighbor, complained about the noise from its openings, but Nazir Hoosein once wryly noted that strikes by hospital workers were far more noisy than the theatre's premieres.
Nazir Hoosein protected and preserved the Liberty at all costs because he understood its incalculable value for the intertwined histories of film, modernity, architecture, and the city of Bombay. After his father's death in 1970, the Liberty passed into the hands of a private consortium that allowed the building to fall into disrepair. Hoosein undertook a twenty-year legal battle to regain control. He fought against the onerous government entertainment taxes and tax-free holidays for multiplexes that have decimated India's single-screen cinemas. Habib Hoosein's Strand is long gone as is now the New Empire. And his Naaz along with the Eros and Regal are all now shuttered and face uncertain futures.
Today the Liberty is the only one of Bombay's great picture palaces still functioning as a single- screen cinema with its architecture, furniture, and ornamentation in pristine condition. All this is due to Nazir Hoosein. It is no wonder that the Film Heritage Foundation, dedicated to preserving Indian cinema, chose the Liberty for its inaugural event in 2015. Three years later director Christopher Nolan, a champion of analog film, screened the 35mm version of his Interstellar at the Liberty.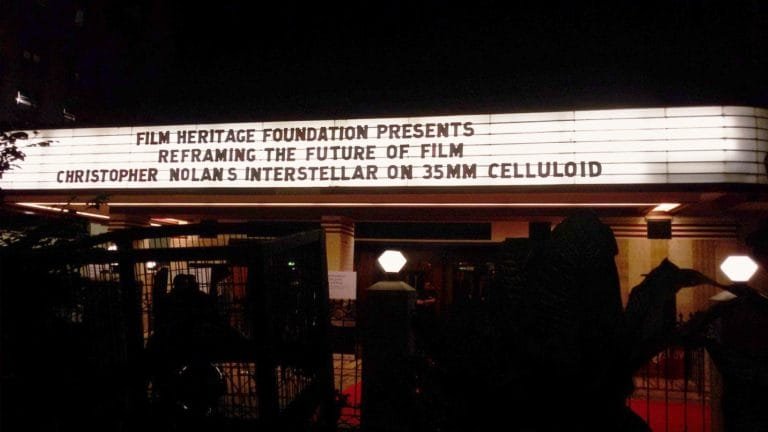 Yet Nazir Hoosein understood the Liberty could not become a museum if it were to survive and thrive in the future. Thus he reinvented and repurposed it as a venue for film festivals as well as first-run releases. Committed to a tolerant, diverse, and inclusive India, Hoosein welcomed the Kashish Queer Film Festival to the Liberty in 2014 after it was abruptly evicted from another Bombay picture palace. To a standing ovation from an audience of a thousand, he stated in 2015:
we have a country that is full of ancient prejudices that today have no place in modern society. And with so many countries now permitting same sex marriages and with a number that's increasing, it's time to get a move on. Kashish is doing a magnificent job and to try and effect a change in our land, as we all realize, is a very steep and very upward task. The Liberty is proud to be associated with this endeavor.
One of Nazir Hoosein's last wishes was that the Liberty continue as the Kashish festival's home.
Reconfiguring the stage and seating of the main theatre, Nazir Hoosein also saw a future for the Liberty as a venue for symposia and live performances. He was the host but also an expert panelist for "Automotive Royalty," a symposium on the Rolls Royce . Here he used the Liberty's courtyard as an exhibition space for classic automobiles that drew admiring crowds. The live performances he welcomed to the Liberty were often experimental. A 2012 event dedicated to Fearless Nadia, a silent-screen heroine and stuntwoman from the 1920s, screened clips of her feats while a live orchestra played on the Liberty stage. In tribute to her acrobatics, a violinist played while he rotated on a trapeze suspended from the theatre's fly system. Rock concerts brought young musicians and audiences into the Liberty. Used to the sterile boxes of multiplexes, millennials marveled at the sheer beauty and elegance of the Liberty. Admittedly, Nazir Hoosein had some qualms about future rock concerts after he discovered plaster loosened by the high-decibel music
The Liberty has always been about family. Nazir Hoosein committed himself to protecting, preserving, and reimagining the Liberty he inherited from his father. The Liberty staff members were truly part of his extended family. While Errol Lobo, the theatre administrator, has worked at the Liberty for 22 years, other staff members have been there even longer. Now Mrunal Gole, Nazir Hoosein's wife of twenty-nine years, and his daughter Aranka will take on the family tradition of the Liberty. Because of the rich legacy he left us at the Liberty, all who care about Bombay owe Nazir Hoosein an enormous debt. We can begin to repay him by supporting his wife, daughter, and staff as they take his Liberty forward into the future.
Mary Woods for Art Deco Mumbai
Mary N. Woods is professor of urban and architectural history at Cornell University, Ithaca, New York . She and Vani Subramanian, Delhi filmmaker, are completing a documentary on single-screen cinemas in today's India. Nazir Hoosein was the film's inspiration and godfather. He made it possible as he did so generously for countless other projects.
Click here to view "Liberty Cinema: The Showplace of the Nation", a short film by Art Deco Mumbai Trust.