Mumbai has one of the largest collections of Art Deco buildings in the world. These buildings are architecturally unique and globally significant in terms of their scale, density, unique style and geographic spread across the city of Mumbai. They have witnessed many historical events with national, local and/or individual significance and act as a memory bank for future generations.
One of the international outreach objectives of Art Deco Mumbai Trust was to put Mumbai's Deco on the global map.
International Coalition of Art Deco Societies (ICADS) is the nodal global organisation formed to bring countries together, to educate and preserve Art Deco Heritage, and enable cross cultural dialogue. ICADS members span 13 countries and 29 cities and it hosts the World Congress of Art Deco. This Congress is a biennial event, where all members get an opportunity to interact and immerse themselves in the Deco world of the host city through talks, walks, field trips and receptions, among others.
We applied to ICADS in Sept 2017 and are pleased to announce that after a rigorous process Art Deco Mumbai Trust has been admitted as a Member.
We believe that this association will enable engagement for the Trust with other global organisations and promote a better understanding of design style in the context of Mumbai. It will also foster new ways to collaborate and develop an appreciation for the design movement. And, exchange information that would aid the conservation of Art Deco buildings in Mumbai.
Joe Loundy, President, ICADS Board of Directors welcomes us aboard: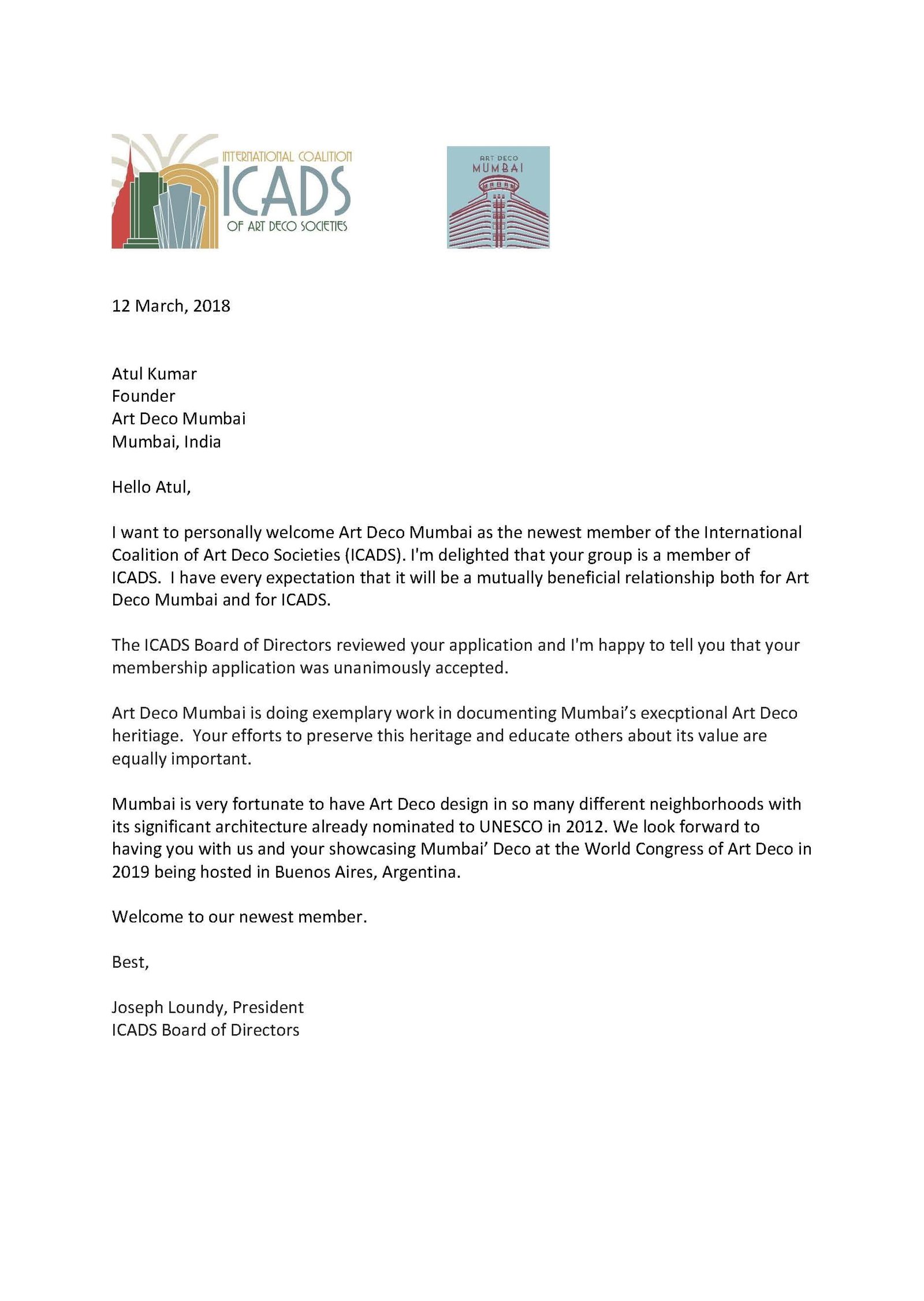 The current members of International Coalition of Art Deco Societies are:
United States
Art Deco Society of Boston
Art Deco Society of California (San Francisco)
Art Deco Society of Los Angeles
Art Deco Society of New York
Art Deco Society of the Palm Beaches
Art Deco Society of Washington
Chicago Art Deco Society
Detroit Area Art Deco Society
Miami Design Preservation League
Sacramento Art Deco Society
Twentieth Century Society (Cleveland Ohio)
Canada
Art Deco Montreal, Quebec
South America
ADBA Art Deco Buenos Aires Argentina
Habana Art Deco Group, Cuba
Instituto Art Déco Brasil, Rio de Janeiro
Europe
Paris Art Deco Society
Perpignan Art Deco Society (France)
Twentieth Century Society, London, UK
Australia & New Zealand
Art Deco & Modernism Society of Australia, Melbourne (includes chapters in Brisbane and Adelaide)
Art Deco in the Tropics – Innisfail, Queensland, Australia
Art Deco Society of New South Wales, Australia
Art Deco Society of Western Australia, Perth
Art Deco Society, Auckland, New Zealand
Art Deco Trust, Napier, New Zealand
Twentieth Century Heritage Society of New South Wales, and ACT, Sydney, Australia
Africa
Durban Art Deco Society, South Africa
Asia
Bauhaus Center, Tel Aviv, Israel
Historic Shanghai, China