Our outreach creates a unique experience for children who learn by physically engaging with Deco buildings and then express their learning through visual art.
Heritage is about building links between generations: youth must be involved with heritage protection and development. This is how young people can take ownership of their own history, build their identity and participate in the development of their own culture. 

                                                                  Audrey Azoulay, UNESCO Director General                                                             at 42nd Session of World Heritage Committee.
In a world where change is constant, there is a compelling need to understand that conserving the built heritage in our neighbourhoods, cities and country is a social responsibility of every individual, especially the young one.
The younger generation play a very crucial role in shaping the future, especially in their neighbourhoods. They ask questions as they explore their surrounding and through their processes of learning act as powerful influencers within their social fabric, especially their homes. Experiences and their collective memory influence how they understand the world around them, what within it is of value to them and what they choose to treasure and share with others. It is essential to stimulate them to understand their built environment and sensitise them to buildings around them, especially historic buildings and neighbourhoods.
To enhance student outreach Art Deco Mumbai collaborated with The Pomegranate Workshop to conduct a youth outreach programme for students of Don Bosco International School, Matunga, Mumbai. This program hosted 250 students from class 3 to class 7, 50 students a day, for a week. The objective of the programme was to create a unique experience where children learn by physically engaging with the built environment and then express their learning through visual art in a workshop conducted at Oval Maidan.
The programme intended to bring Art Deco into the everyday vocabulary of the younger generation in the city in an engaged and involved manner. And, to draw them into questions like: What is this architectural style, why were these buildings built? Who built them and who were they built for? Why are they important? How did they gain value? Who takes care of them? What will happen to them in future?
We believe that the students and the built environment are 'the future'.  It is important to empower the students, so they are enabled to make informed decisions in the future, especially with regards to the Art Deco treasures of their city. We think this will also inculcate a sense of responsibility and encourage active involvement in future to safe guard architecturally significant buildings.
To engage with the students in an effective manner, the programme was designed to be executed in two parts:
First, a 45-minute walk along Mumbai's iconic Oval Maidan to see 'Deco at the Oval' that introduced Art Deco, the concept and its global history and its arrival to Bombay. They were also introduced to common architectural features they need to know to identify the Art Deco buildings around them.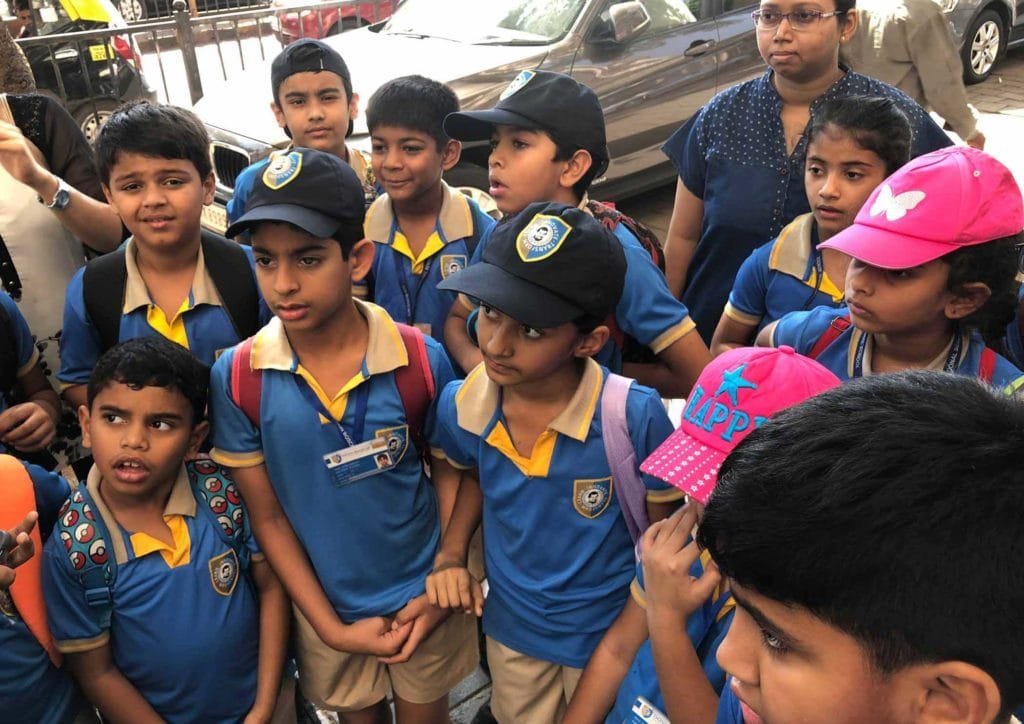 Second, all the students were given a hands-on activity to complete while seated at Oval Maidan facing the Art Deco buildings they had been shown. The activity was meant to engage the students in the process of designing their own building facades based on what they had just seen and heard on the walk, and information provided in worksheets.
They were asked to design their own Art Deco building keeping in mind the same guidelines that the original architects in 1930's followed while designing the buildings on the Oval Maidan Precinct. Guidelines such as:  all buildings should have the same height, were cuboid in form, had the same plot size and had flat roofs. The worksheets given to the students comprised of an outline of a building to use as a base and a visual glossary of the common architectural features to further aid them with the activity.
Here are some pictures that capture the walk and give you a sneak-peak into the Deco designs created by the students, where they express boundless enthusiasm, creativity and talent.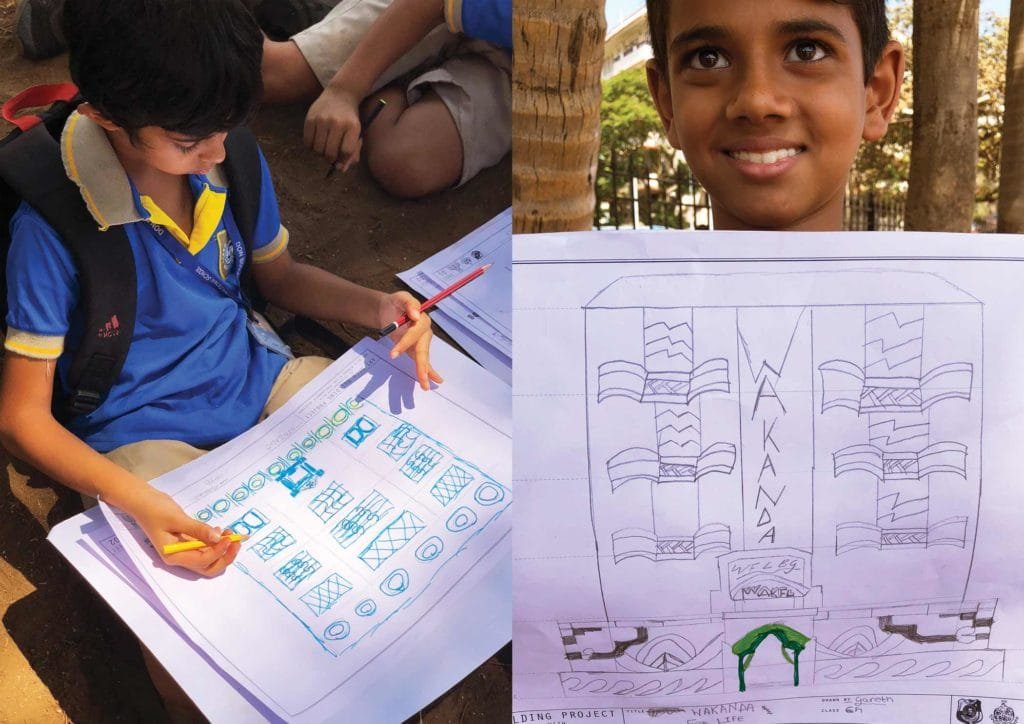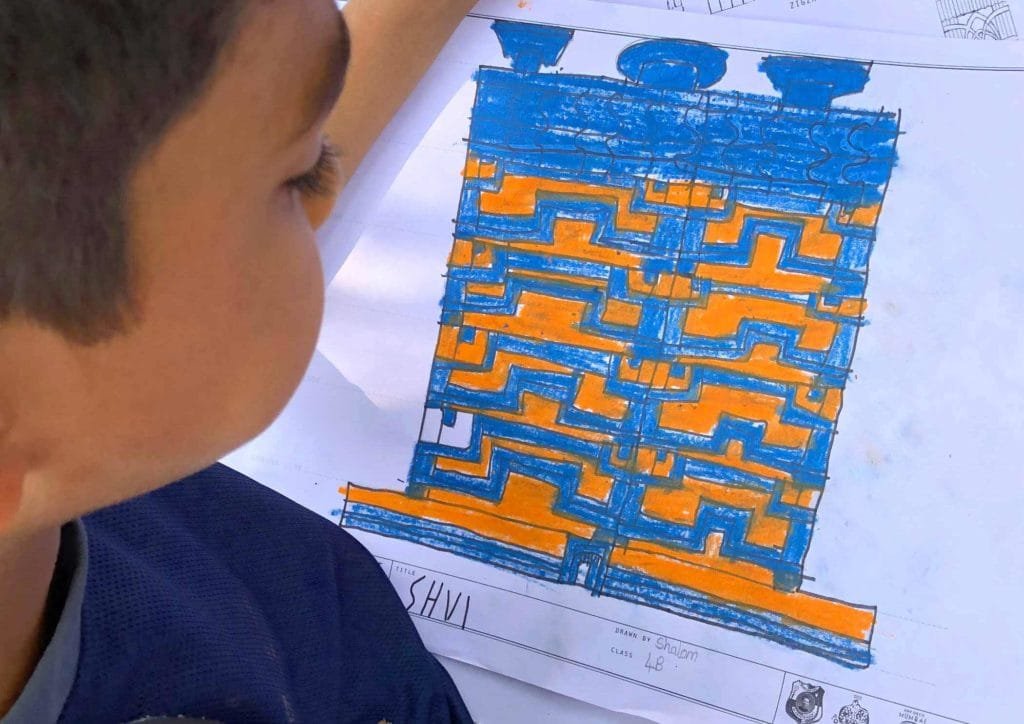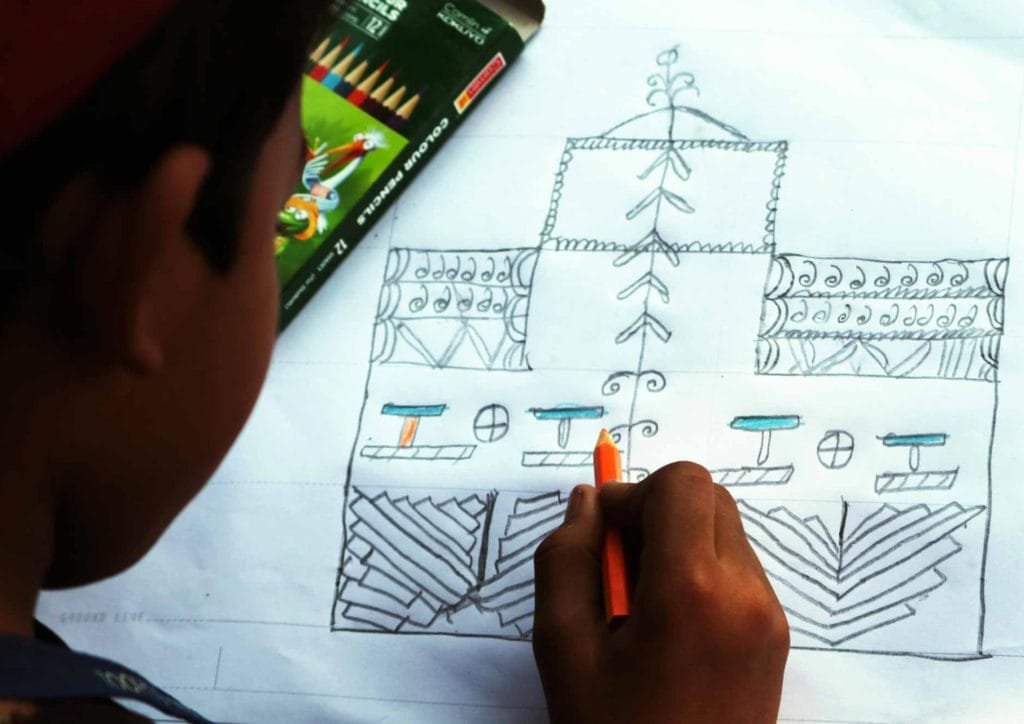 Organisational Bio:
Art Deco Mumbai is a public charitable trust is actively engaged in spreading awareness about Mumbai's rich Art Deco heritage through its outreach initiatives.
The Pomegranate Workshop is a Mumbai based arts education company focusing on art, culture and aesthetics. They work with children and young adults through their programs designed specifically for schools and their own workshops.