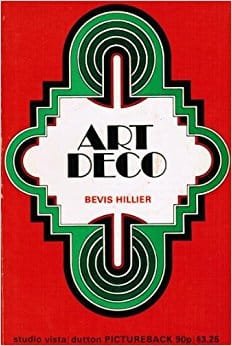 Bevis Hillier (1985) Art Deco of the 20s and 30s; Schocken Books, 1985
Originally published in 1968
This book explores the lavish style of modern art and gives examples mainly from Europe.
Howard Mandelbaum (1987) Screen Deco- A celebration of high style in Hollywood; St. Martin's Press, 1987
Originally published in 1985
Screen Deco takes the reader on a breath-taking tour through the sumptuous and spectacular movie sets that became Hollywood's trademark in the 1920s and '30s. This lavish volume will delight any fan of Hollywood's golden age.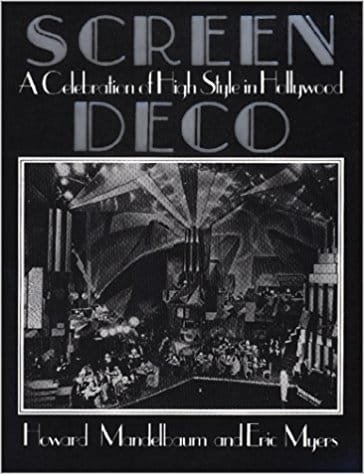 Patricia Frantz Kery (1986) Art Deco Graphics; Thames and Hudson
This is the first book to focus exclusively on Art Deco graphics. The text discusses in depth the origins, sources, and influences that formed Art Deco graphic style and then covers the many areas of graphic design in which the style appeared. The illustrations shown are basically two-dimensional works made for production in print – posters, magazine covers and illustrations, book jackets and pages, fashion drawings, advertisements, postcards, sheet music covers, menus, packaging, labels, letterheads, textiles, wallpapers, stationery, catalogues and brochures, etc.
Ghislaine Wood (2003) Essential Art Deco; V & A Publications
"This illustrated book explores the extraordinary visual language of the style. Borrowing from the exotic cultures of Ancient Egypt, Meso-America, the oriental East and Africa and from the man-made world of skyscrapers and machines, Art Deco developed a highly distinctive iconography." Deeply eclectic and highly decorative, Art Deco celebrated fantasy, fun and glamour – themes which still strike a popular chord and account for Art Deco's huge appeal throughout the world today.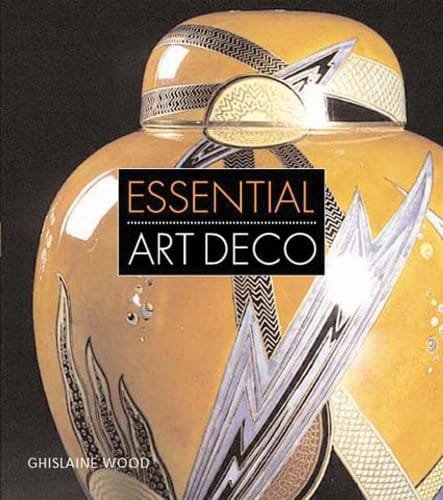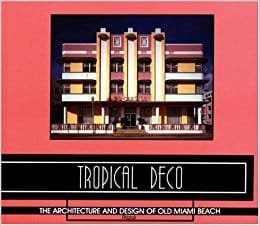 Laura Cerwinske (1981) Tropical Deco: The Architecture and Design of Old Miami Beach; Random House Incorporated
Tropical Deco: The Architecture and Design of Old Miami Beach treats its readers to a delightful view of a unique adaption of a historic architectural style. For, while Miami Beach's Art Deco architecture derives its stylistic roots from the streamlined and electric visions of the cosmopolitan North, Tropical Deco design is much softer and more temperately seductive. These are buildings whose narrative and evocative nature is at once sophisticated, naive and filled with humour.
Adrian Tinniswood (2005) The Art Deco House: Avant- garde Houses of the 1920s and 1930s; Mitchell Beazley
 Divided into five chapters on five key styles of Art Deco house, this book showcases over 34 fantastic houses by some of the great architects of the 20th century, including Le Corbusier, Norman Bel Geddes, and Richard Neutra. Art Deco icons such as Miami Beach, the Maison de Verre, and Eltham Palace are included amongst lesser-known gems such as Michael Scott's Geragh in Ireland and Eckart Muthesius's Manik Bagh in India.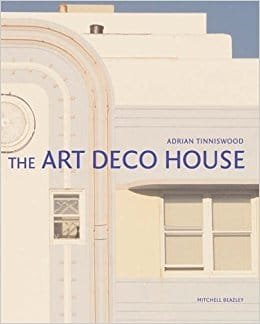 Barrie Down (2010) Art Deco and British Car Design: The Airline Cars of the 1930s; Veloce Publishing Ltd.
This is a book about automotive styling, in particular the streamlined styling that defined what are now known as Airline cars. During the mid-1930s the majority of British car manufacturers and coach builders experimented with streamlined styling. Part One of the book explains and illustrates the Art Deco styling elements that link these streamlined car designs, and describes their development, their commonality, and their unique aeronautical names. The stories of the individual cars, their designers, and their development, are told in Part Two.  The book is well illustrated with over 200 contemporary pictures and colour photographs of existing cars, many of which have never before been published. This book is an instructive and visual feast for all car lovers.
Charlotte Benton, Tim Benton, Ghislaine Wood (2015) Art Deco 1910-1939; Harry N. Abrams
This authoritative publication brings together leading experts in the field to explore the sources, varied forms of expression, distinct visual language, and global reach of deco. With its breath-taking illustrations, this lavish volume is the definitive book on what is, arguably, the most popular style of the 20th century.
Ingrid Cranfield (2004) Art Deco House Style: An Architectural and Interior Design Source Book; David & Charles
Discover how to recreate and restore authentic period architecture, furnishings and detailing in the Art Deco style. The elegant and sophisticated style known as Art Deco epitomises for many the inter-war years of the 1920s and 1930s. Although not strictly a style of architecture, but a surface decoration, its clean lines and stylized, symmetrical forms nonetheless influenced the design of buildings throughout the world, greatly assisted by the new industrial materials of stainless steel and ferro-concrete.
Alastair Duncan (2009) Art Deco Complete: The definitive Guide to the Decorative Arts of the 1920s and 1930s; Thames & Hudson
"In the most comprehensive account of the decorative arts of the Art Deco period ever assembled, Alastair Duncan celebrates the rich variety of form and diverse international roots that have made it a perennial favourite of collectors and a constant source of inspiration for designers. The guide begins with a series of essays on the major media of the period: Furniture and Interior Decoration; Sculpture; Paintings, Graphics, Posters and Bookbinding; Glass; Ceramics; Lighting; Textiles; Silver, Metal, Lacquer and Enamel; and Jewellery, each followed by lavishly illustrated in-depth biographies of the major designers and artists working in the medium. The second half of the book is an authoritative illustrated A-Z listing of all significant designers in the Art Deco style, comprising over four hundred entries."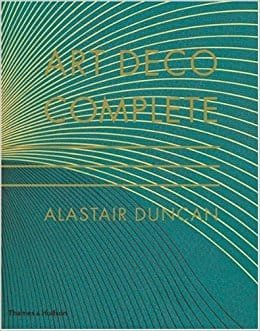 Carla Breeze (2003) American Art Deco: Architecture and Regionalism; W. W. Norton
"American Art Deco features descriptions – and over 450 color photographs – of 75 lavish and innovative buildings across the country whose exterior features, such as windows, doors, light fixtures, ornament, and interior ceilings, elevator doors, stairways, and ornament, have not been drastically altered or removed. The buildings herein represent those that have maximum architectural integrity, thereby giving us the full scope of this much admired and exciting style."
Patricia Bayer (1992) Art Deco Architecture: Design, Decoration and Detail from the Twenties and Thirties; H. N. Abrams
This exploration of Art Deco architectural design embraces many different times and places in its visual and verbal account of the movement's origins, development, and influence.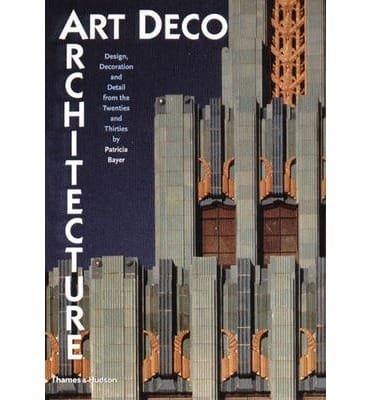 Norbert Wolf (2016) Art Deco; Prestel Publishing
Now available in a new format, this lavishly illustrated volume explores Art Deco art and design from its origin to its present-day influences. The Art Deco style is so recognizable and widespread that its original impact on the culture in which it emerged has been all but lost in the clutter of imitation. This book draws our attention back to the birth of Art Deco–a period between two devastating world wars when industrialization was flourishing, interest in archaeology was peaking, and movements such as Cubism, Constructivism, Futurism, and Modernism were turning the art world on its head. Brilliantly designed to reflect the style it celebrates, Art Deco is filled with hundreds of examples of painting, architecture, interiors, jewellery, crafts, furniture, and fashion.
William Crouse (2016) The Art Deco Poster; Thames & Hudson Ltd.
Long-time poster aficionado William Crouse has selected over 300 of the most sought-after examples of poster art created between the wars for this definitive volume. Organized thematically into subject categories (aviation, communication, fashion and more), this book includes over 300 highly rare and even unique examples by masters of the art form, including Nizzoli, Cassandre and Beall. Each poster – digitally photographed under carefully controlled conditions – is accompanied by an expanded caption that addresses the aesthetic, sociological, economic and/or political context of the image.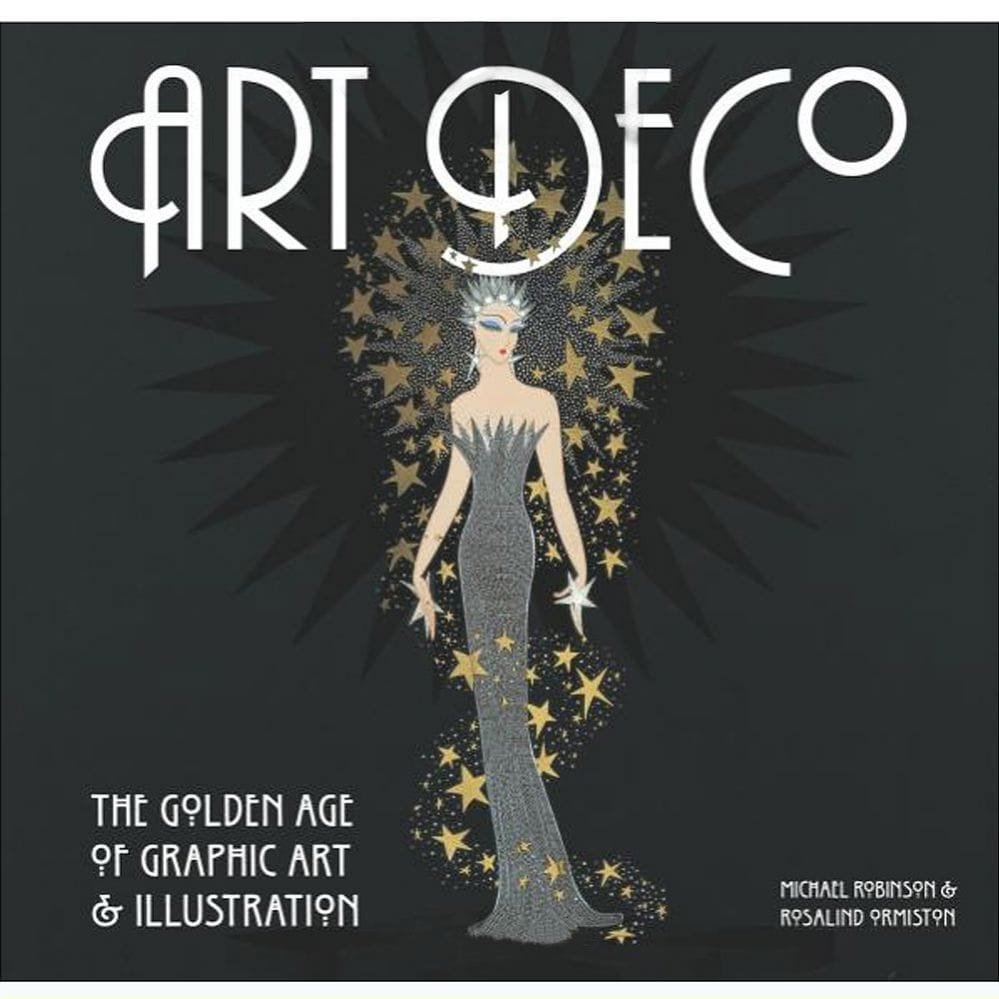 Michael Robinson, Rosalind Ormiston (2008) Art Deco: The Golden Age of Graphic Art & Illustration; Flame Tree Publishing
This beautifully illustrated book is a celebration of Art Deco's expression through the graphic arts and illustration. Divided into three sections – the movement, its fashion and advertising – the reader gains great insight into the artists and innovators that helped popularize the Art Deco movement, such as Georges Barbier, Ert, Cassandre and Paul Colin.
Patricia Bayer (1998) Art Deco Interiors: Decoration and Design Classics of the 1920s and 1930s; Thames & Hudson
By the time of the great Paris Exhibition of 1925, the idea that an interior and its furnishings should form a complete design–a "total look"–dominated the thinking of both designers and their sophisticated clients. In the later 1920s and 1930s, whole studios were established, notably in France and the United States, to serve the needs of a design- and style-conscious middle-class intent on showing off its newly refined taste for things modern and exotic: the richly lacquered screen, the tubular steel chair, the vivid geometric carpet.
Theodore Menten (1972) The Art Deco Style: In Household Objects, Architecture, Sculpture, Graphics, Jewellery; 468 Authentic Examples; Courier Corporation
Theodore Menten in this new selection of Art Deco styles includes works in all of the above categories from 175 artists, architects and designers including: Edgar Brandt, Marcel Breuer, Pierre Chareau, Jean Fouquet, Gabriel Guevrekian, Le Corbusier, Pierre Legrain, Andre Lurcat, Robert Mallet-Stevens, the Martels, Gustave Miklos, Charles Moreux, Raymond Nicholas, Charlotte Perriand, Jean Puiforcat, Rene-Herbst, Gerard Sandoz, Henri Sauvage, Raymond Subes and Gaston Vuitton.
Genista Davidson (2015) Art Deco Traveller: A Guide to Britain; Art Deco Publisher
A Guidebook and Compendium of Original and Art Deco Style Accommodation, Restaurants, Bars, Cafes, Lidos and Places of Interest in Britain.  For all Art Deco followers, and nostalgic lovers of the 1920s and 30s.  This easily formatted and illustrated book, informatively advises of hidden gems and grand day trips throughout our glorious country.