It would be an understatement to consider Anurag Kashyap's 'Bombay Velvet' to be a film based on its eponymous namesake, and leave it at that. Fresh from the euphoria of Independence, Bombay was at a historic juncture, where new ideas of modernity inspired by the West were staking claims amidst a milieu of prohibition, crime and unionism. Going back in time to this Bombay of the 40s, 50s and 60s where Art Deco, Jazz, Austin motor cars and Tommy guns ruled the roost, we are joined by Sonal Sawant and Dhara Jain. the two women whose vision and research for the film built a Deco city out of thin air, literally.
"A period film is every Production Designer's dream come true," beams Sonal Sawant, Production Designer of Bombay Velvet. We are with her over tea at her office in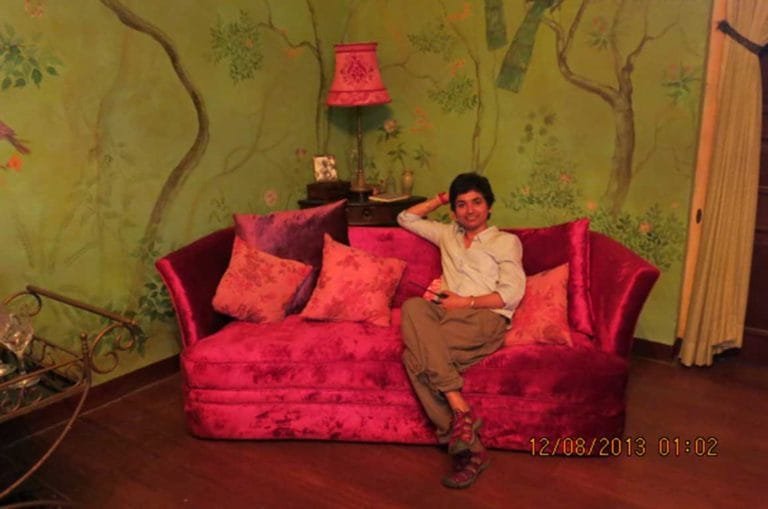 Jogeshwari. Shuttling between Mumbai and Goa, where she runs a world cuisine cafe and lives with no less than eight canines, Sonal says her retirement plans are all but in the offing. On the wall outside her room rests a quaint print from the design board of the Bombay Velvet Club, with a few scribbled notes. One among many reads, 'Sonal, I love you. Thank you for everything' by Director Anurag Kashyap, while Ranbir Kapoor acknowledges her 'Genius work!'.
As one who graduated an architect, a dreary four-month internship rearranging paraphernalia in a client's restroom set many things straight for Sonal, if not for the client. She knew she had to work on projects that involved new learnings and challenges, and bargained for work with her father Suresh Sawant, a renowned Art Director in his time. "He told me I couldn't be his assistant, so I had to tag along with the painters. My crew used to give me trivial work since I was their boss' daughter," remarks Sonal. But an Italian team on the sets were quite taken by her determination and they wanted her to work with them.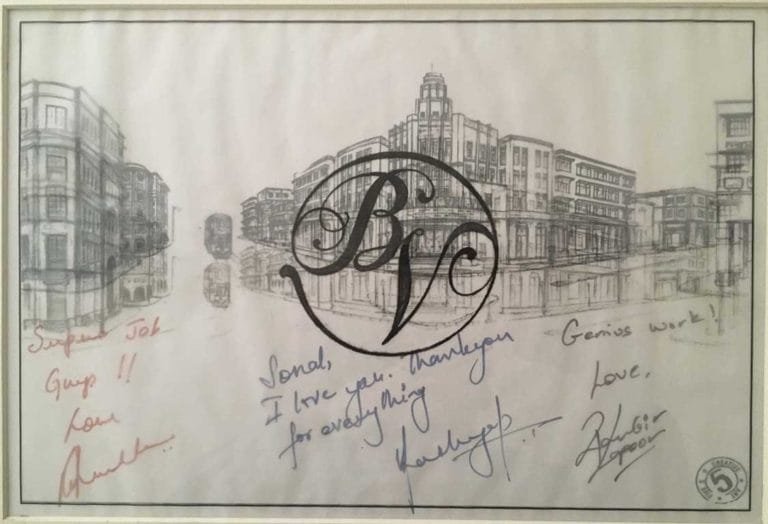 This brief stint was to be her calling to a career in production designing. "At the end of the project I went up to my father and told him I wanted to continue in this line, and he was really upset," she chuckles and we can't help ourselves. An enthusiast of war and fantasy films herself, Schindler's List is her top pick and directors Majid Majidi and Sai Paranjpye are in her own words, directors she admires most.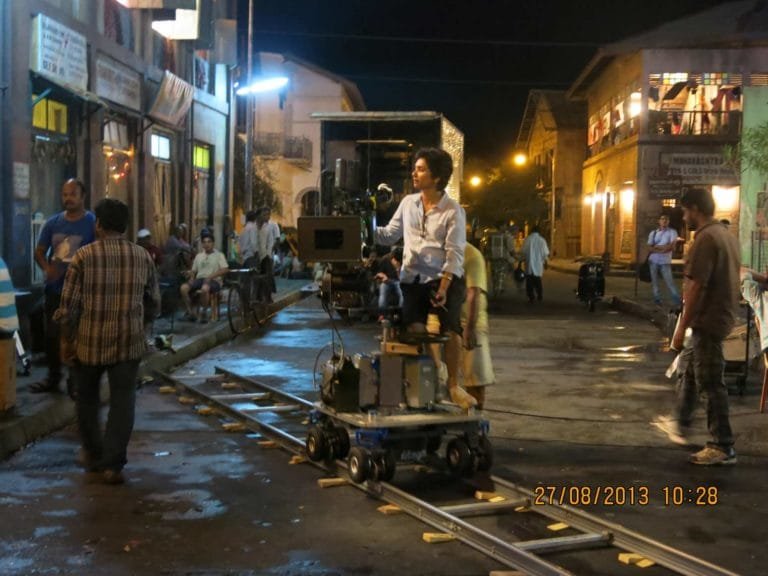 In 2012, when Anurag approached Sonal to helm the Production team of Bombay Velvet, she had several films to her credit, her latest then being Kai Po Che. Sonal has us momentarily stunned when we ask what brief Anurag outlined to her for the film. "I had no brief, and Anurag is yet to give me one" she laughs. At a time when it is common for directors to micromanage all aspects of a film, Sonal says Anurag let her trust her instincts and was even willing to be advised about erecting life-sized sets. She remarks in jest, 'Except for the colour on the carpet in the Bombay Velvet Club, there was nothing else Anurag and I disagreed about. I was interested in putting a pink carpet and he wanted a red one. In the end, I gave in. That's about it.'
Bombay Velvet reopened an extraordinary chapter in the life of Bombay when the city was flirting with new ideas of modernity, inspired by the West. As an architectural idiom that idealised modernity and found expression between the 1930s and 1950s, it was but inevitable that Art Deco would be a prominent leitmotif throughout the film.
The making of the sets of Bombay Velvet is a story in itself. Bombay of the 50s and 60s had to be recreated, streets, buildings, and trams in tow, on nine acres of land at Tissamaharama, Sri Lanka. Shooting in a foreign country with a native crew was not without a few travails. "We were working with people who were not equipped to build sets of such scale. Since they didn't speak English and we couldn't speak Sinhalese, communicating our ideas of design which had to be ultimately executed by them was a challenge," narrates Sonal.
But an experience she reminisces with much relish is one we believe could only be unique to Sri Lanka. Sonal's executor had asked her to travel six hours to a place called Kandy to source the doors she had wanted fabricated for the Bombay Velvet Club. "At such times, one cannot help but lament how easily this could have been done had we been in Mumbai." she says. She went nevertheless but had no inkling of what awaited her at Kandy. Sri Lanka has one of the best brass works industries centered at Kandy, and as one who had gone looking for fabricated doors, Sonal came back with real metal brass doors. "In 20 years of my career I have never had real brass doors on any of my sets" she exclaims with infectious excitement.
Every period film that is true to its time, owes much to an industrious research team. Backing Sonal to the hilt, and spending over six months scouting the city in and out creating an exhaustive archive for the film was none other than Dhara Jain, researcher and Assistant Production Designer of Bombay Velvet. A student of Communication Design who cannot doodle to save her life, Dhara came to the maximum city in 2004 and has stayed since. She worked at MTV while keenly following Sonal's oeuvre and a 'Will you do research' offer from Sonal in 2012 came as a window of opportunity for Dhara. She quips that she celebrated two successive wedding anniversaries with the film crew in Sri Lanka, and not her partner.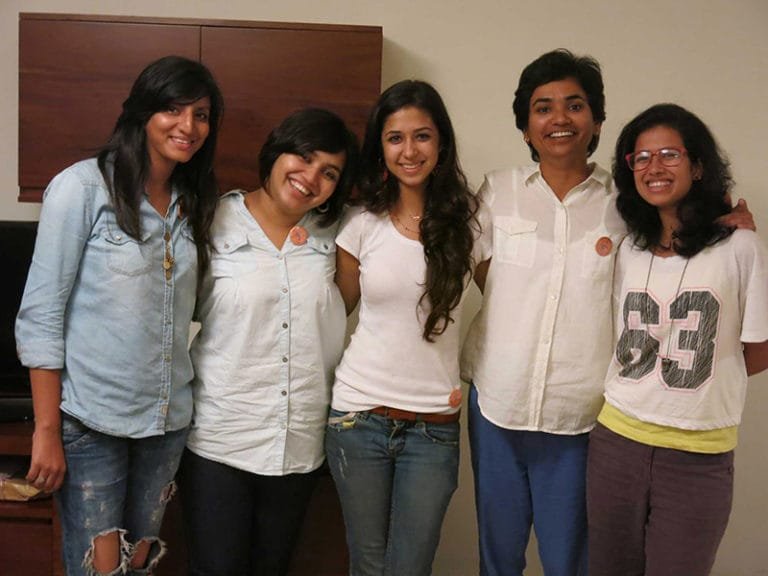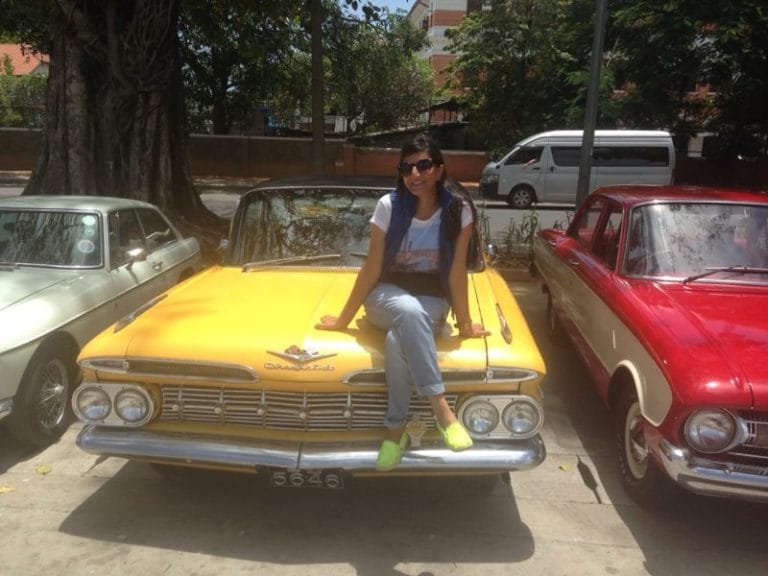 Production design, as Dhara explains, is not exclusive to spaces. "We break the script down and build characters. If you describe a character's personality, we will create their world, from the houses they live in to the cigarettes they smoke." Since the film was intrinsically tied to the city of Mumbai in the heydays of the 50s and 60s, Dhara's research also pertained to fleshing out and culling information that would create an accurate visual narrative for the film."You never know this period exists. One has to see it to believe it. When the whole country was fighting for freedom, Bombay folks were chilling in the clubs and bars." she laughs.
Dhara is also unabashed about having to push her way through people and public bodies that would not cooperate. "We used means, acceptable and surreptitious to access information since a lot of public information repositories in the city are not people friendly. They put us in a loop of filling forms and getting permissions and withhold information. The ultimate bait was to tell people that Ranbir and Anushka would click pictures with them if they gave us what we wanted," she sighs.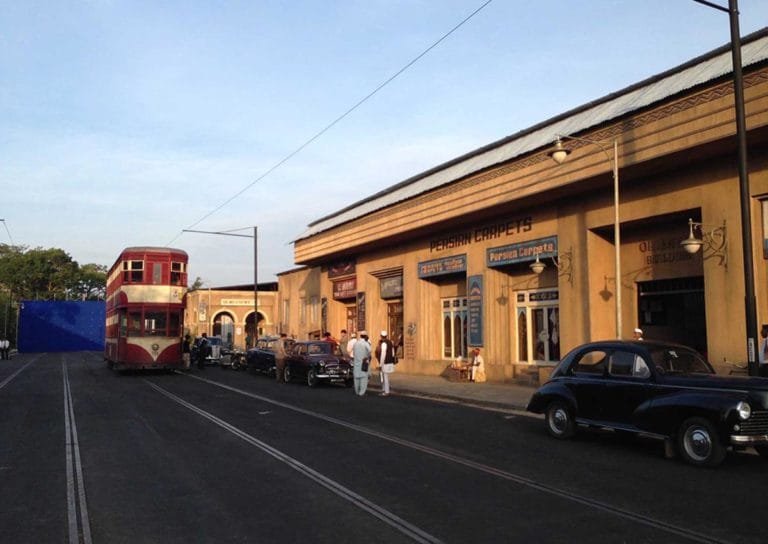 Browsing through her compendium of pictures, notes, clips and other memorabilia, the enormity of Bombay Velvet's scale dawns upon us. From Brylcreem advertisements, newspaper articles, movie show tickets to stamps used on postages, every trivia was meticulously researched and represented as it would be in its time.
Dhara recollects their weekly excursions to Chor Bazaar, which always promised a rich haul of antiquities. "Every Friday, our team would go scouting in Chor Bazaar (in South Mumbai). We had frequented that place so often that shop keepers would know beforehand when we would come next. They would keep things aside for us. We got lamps, old cupboards, drawers, letters, even an original Portuguese passport belonging to a Goan guy."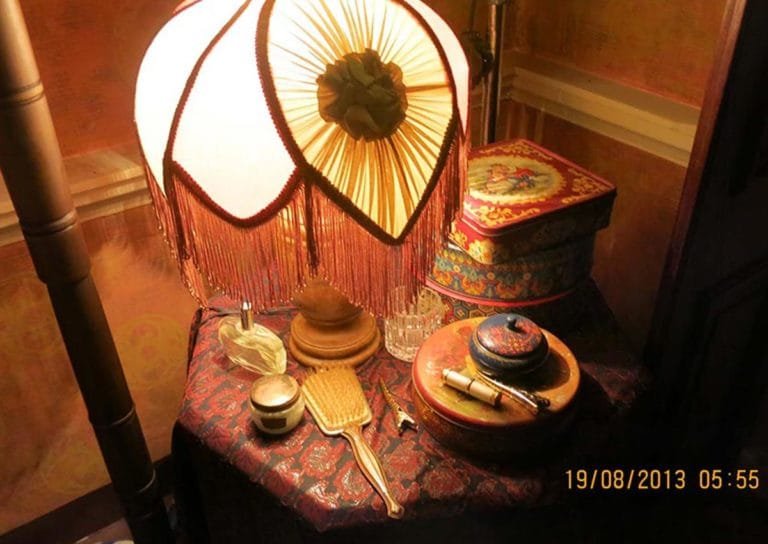 Bombay Velvet premiered four years ago, and in hindsight we ask Dhara if there is anything she wished had been different in the film. Not one to be complacent, Dhara has a secret list. "We always feel it could have been better. Maybe there was too much of gold used or some places could have been less crowded" she says.
But a monkey she cannot get off her back till date, is an erroneous number plate used on a vintage car in Sri Lanka. "We had all the number plates made in Bombay and taken to Sri Lanka. Now, the commissioner's car had a different numbering style, which we realized when we were in Sri Lanka and we couldn't source it there. As a last resort I told the unit director not to take a close up. But as luck would have it, there was a full close up shot in the film, and I used to get calls from people who pointed that out." Dhara is quick to add how discerning a film viewing audience has become, which mandates that research be impeccable.
" … for every person working on Bombay Velvet, the film had become a personal benchmark of excellence. Nothing less than the best would be acceptable" says Dhara.
For both Sonal and Dhara, Bombay Velvet was never a run of the mill project. It demanded a prodigious amount of integrity and commitment that took a life of its own during the two years they were devoted to it. " Even when we hit roadblocks, we used to push each other and for every person working on Bombay Velvet, the film had become a personal benchmark of excellence. Nothing less than the best would be acceptable" says Dhara.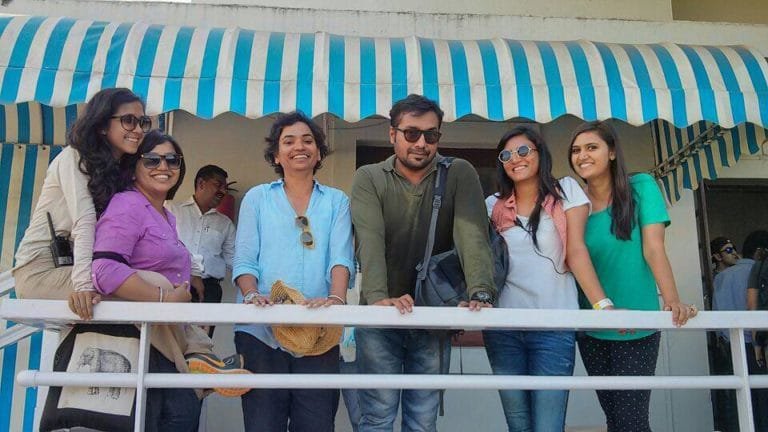 In Sonal's words, they had to unlearn everything they knew about building sets and begin from scratch, contending with the uncertainty that what was envisioned in the beginning would not be what was ultimately built. "The film took away a part of us" was what Sonal left us with, and it holds more truth than may seem, as both Sonal and Dhara did not take up another project for three and two years respectively, post Bombay Velvet. Never before has Bombay of the 50s and 60s been recreated on a scale of such grandeur, with utmost integrity to the period on the silver screen, and both Sonal and Dhara played an indispensable role towards its fruition.
Sonal Sawant and Dhara Jain in conversation with Atul Kumar and Meera Panicker, Art Deco Mumbai.
Bombay Velvet (2015) was directed by Anurag Kashyap and produced by Fox Star Studios and Phantom Films, starring Ranbir Kapoor, Anushka Sharma, Karan Johar and Kay Kay Menon.